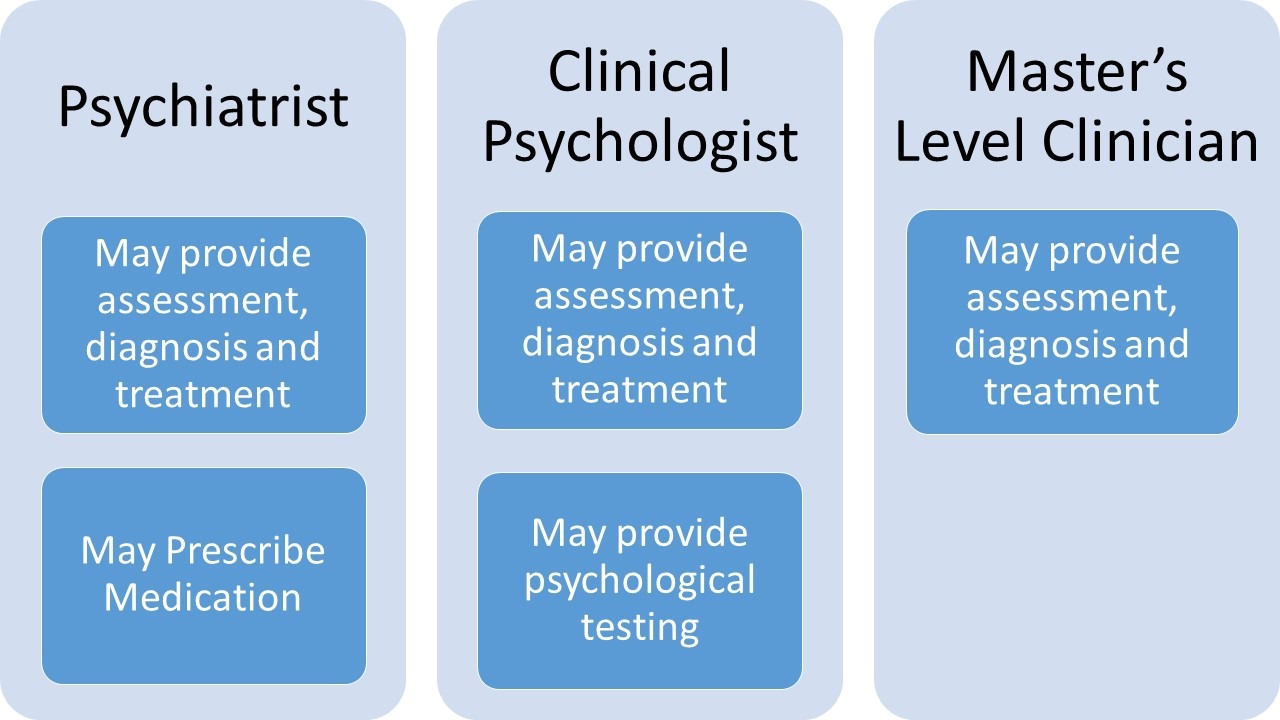 Perhaps you are considering the idea that you could benefit from some professional support, but you're not sure where to start.  Perhaps you have heard different titles and professional terms, but never really understood the difference. This article will clarify the differences and similarities among mental health professionals.
What's the Difference between a Psychiatrist and a Psychologist?
In short, the answer to this question is that a psychiatrist has medical training and a psychologist has academic training.  Both can provide assessment, diagnosis and treatment. Only a psychiatrist can prescribe medication. Both are often referred to as "doctor".  A psychiatrist has an MD and a psychologist has a Ph.D. or Psy.D.
Not only are people often confused between a psychiatrist and a psychologist, but there are many types of therapists with different titles, training and degrees.
Choosing the right professional is a personal decision.  Since the therapeutic relationship is a connection between two human beings, some factors cannot me measured on paper.  We make decisions through a process of both fact gathering and intuition. This article will focus on the  differences in education and training among providers.  Once you understand the type of help you need, you are one step closer to connecting with the right professional for your needs.
Defining Psychotherapy and Psychiatry
Psychotherapy is the process in which a professional works with a client to facilitate an improvement in mental health.  Underneath that very large umbrella there are many different kinds of psychotherapy and many different training routes toward clinical practice. Some professions require a Ph.D. and some require a Master's Degree in order to be eligible for licensure. When you see the word "clinical" before any title, you know that the professional has completed training in direct care.  In the field of mental health, that means that the professional is trained in psychotherapy rather than indirect care (such as research).
Psychiatry is a branch of medicine which specializes in mental health.  A psychiatrist first earns an MD in general medicine and then an additional four years of residency training in psychiatry. As a result of the medical training, a psychiatrist may treat his or her clients with medication, psychotherapy or both.
Understanding the Different Kinds of Psychotherapists
Doctoral Level Clinicians
Licensing laws vary from state to state, but in the field of psychology, most states currently require a Ph.D. or a Psy.D. These are doctorate degrees which is why is may psychologists are referred to as "Doctor".
A doctoral degree is the highest academic degree and depending on the program, requires 2-3 years of coursework and then the completion of a peer reviewed dissertation, which can take an additional 2-4 years to complete.
A clinical psychologist can perform assessment, diagnosis, treatment, and sometimes psychological testing.
Master's Level Clinicians
There are many types of master's level clinicians who are trained to provide psychotherapy.  All master's level clinicians have completed 2 years or more of post-graduate training.  They are qualified to provide assessment, diagnosis and treatment for mental health issues and include the following:
Clinical Social Worker (some have completed their Doctorate, but not required for licensure)
Marriage and Family Therapist
Professional Counselor
Pastoral Counselor
But How Will I Notice the Differences in the Room?
You might not be able to.
If you were to observe a social worker and a psychologist providing psychotherapy it might look very similar, and two psychologists might work differently.  This is because mental health professionals use different approaches with different diagnoses, and there are many different ways that change can be accomplished.
After completion of the academic requirements to practice, many professionals go on to specialize in specific therapeutic approaches.  This requires advanced training beyond an MD, Ph.D. or Master's degree.
If you are in the process of choosing a mental health professional, the first step is to identify if you are looking for medication, psychological testing or psychotherapy. Then the next step is to choose the professional who has experience with your issue and a style that feels comfortable for you.
For More Information
If you have depression or anxiety, consider Cogntive Behavior Therapy (CBT)
Click Here to Learn About Cognitive Behavior Therapy
If you are looking for help with your relationship:
Click Here to Learn About the Gottman Method
If you would like to schedule a 15 minute phone consultation with one of the owners to discuss next steps:
Click Here to Schedule a Free 15 Minute Phone Consultation